DENTAL AVENU
Dentist in Pinecrest, FL!
Welcome to Dental Avenu, where your dental health is our top priority. Led by the highly skilled and experienced Dr. Sandra Diaz, our dental office is equipped with the latest technology to provide top-quality dental care in the Pinecrest area of Miami, Florida. We offer a comprehensive range of dental services, including general, cosmetic, implant, restorative, and emergency dentistry, to meet each patient's unique needs. At Dental Avenu, we are committed to creating a comfortable and welcoming environment where you can feel at ease during your dental visit. Our team of friendly and knowledgeable professionals are dedicated to helping you achieve a healthy and beautiful smile. Please contact us today to schedule your appointment and take the first step towards optimal dental health.
If you are looking for a professional/experienced dentist in Pinecrest / Kendall, FL, then Dental Avenu is the right choice for you!

Cosmetic Dentistry
Cosmetic Dentistry
Transform your smile and boost your confidence with the help of our cosmetic dentist in Pinecrest, FL.

Sleep Apnea
Sleep Apnea
Sleep peacefully again with the help of our expert dental team in Pinecrest, FL. Schedule a visit to learn more about our sleep apnea solutions.

Dental Implants
Dental Implants
Experience the benefits of permanent teeth replacement with our dental implant expert Dr. Sandra Diaz serving Kendall & Pinecrest, FL. Schedule a visit now!

Veneers
Veneers
Transform your smile with porcelain veneers in Pinecrest / Kendall, FL. Our dentist in Kendall, Dr. Sandra Diaz is here to boost your confidence with a beautiful set of veneers.

Invisalign®
Invisalign®
Get the smile you've always wanted without the hassle of traditional braces. If you are looking for Invisalign in Kendall, FL, Dental Avenu is the right dental office for you.

Root Canal
Root Canal
Don't let persistent toothache disrupt your daily life. Our root canal dentist in Pinecrest, Florida helps patients experiencing tooth pain and discomfort due to a root canal.

Crowns
Crowns
Do you want to restore the appearance and function of your damaged or decayed teeth? Get high-quality dental crowns in Miami, FL, by visiting our dental office.

Tooth Extractions
Tooth Extractions
If you're experiencing severe tooth pain or discomfort, you may need an emergency dentist in Kendall / Pinecrest, Florida. Our emergency dental  services are here for you.

Teeth Whitening
Teeth Whitening
With our state-of-the-art technology and personalized approach to teeth whitening, you can achieve stunning results in just one visit to our Pinecrest, FL, dental office.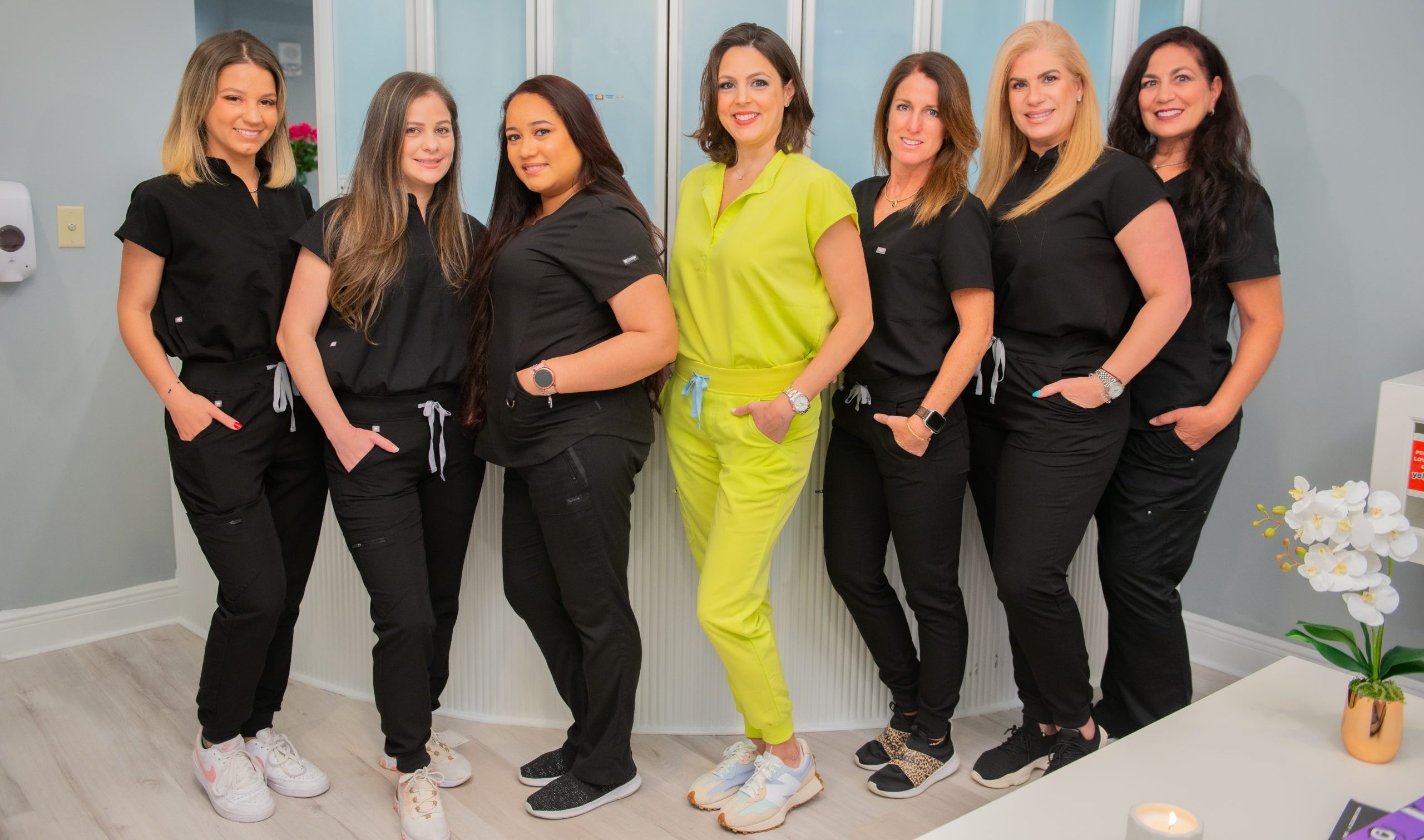 At Dental Avenu, Our top-rated dentist, Dr. Sandra Diaz,  in Pinecrest / Kendall area, has the mission to provide exceptional dental care and create a welcoming environment for our patients. Our team is dedicated to educating and empowering our patients to maintain optimal oral health, while delivering personalized treatments with the latest technology and techniques. We strive to exceed expectations and build lasting relationships based on trust, compassion, and quality care.
Dental Avenu, Dentist in Pinecrest, Florida, is a state-of-the-art dental office that combines cutting-edge technology with beautiful aesthetics to create an unparalleled dental experience. Our office features the latest dental equipment and techniques, including digital X-rays, laser dentistry, and 3D imaging, to provide our patients with the most advanced and precise treatments. The office itself is a tranquil oasis, with warm colors, comfortable seating, and elegant lighting, designed to make you feel at home and relaxed during your visit. At Dental Avenu, we believe that dental care should be effective and enjoyable, and we are committed to providing a high-tech, beautifully aesthetic environment for our patients.
Meet Your Pinecrest Dentist
Dental Avenu was founded by Dr. Diaz, and it is a boutique family practice dedicated to providing the best-in-class dental care. Dr. Diaz passion is aesthetic dentistry, creating stunning healthy smiles. Dr. Diaz is a Doctor of Medicine Dentistry -DMD from Nova Southeastern University and holds a bachelor's degree in psychology from Florida International University. Having this psychology background allows her to provide a higher level of understanding and guidance to patients of all ages with dental anxiety. Aside from being great with adult patients; Dr. Diaz loves children. She is a firm believer that stress free first dental visits are crucial for their trust and compliance as dental patients for the rest of their lives. Preventive is also a big part of her approach; educating patients is her main goal.
Now Available
Virtual
Visits
Dental Care for All
FINANcing Options