Teeth Whitening
Contact Dental Avenu today to learn more about our dental services.
Book an Appointment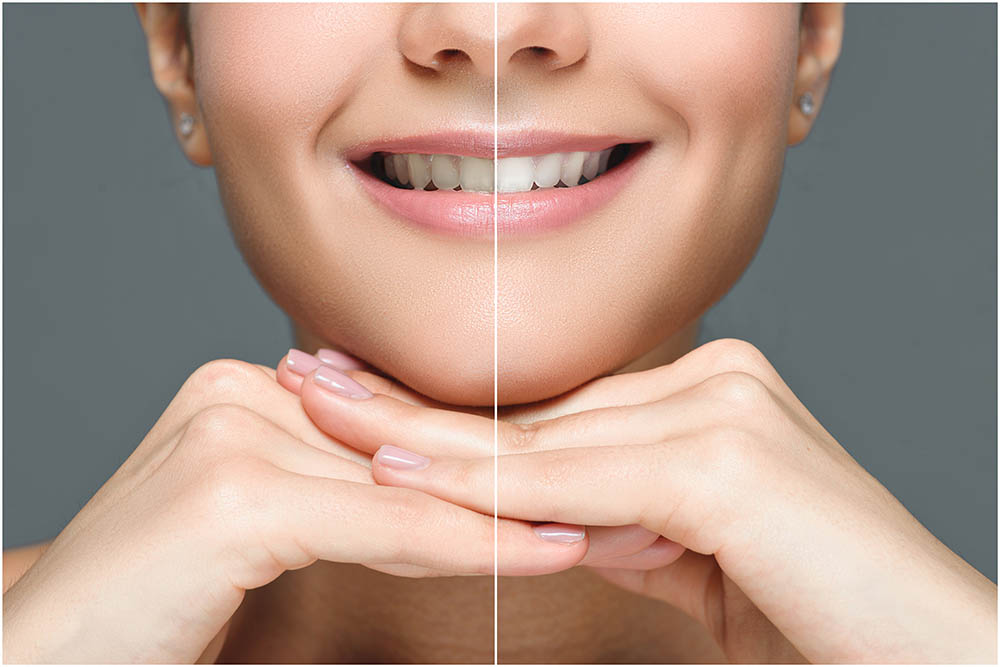 Miami Teeth Whitening
Even if your teeth are structurally sound, you may still suffer from tooth discoloration. Tooth discoloration happens slowly. Once stains set in, they can be hard to get rid of.
If this happens to you, you may not know where to turn.
The good news is that Dental Avenu offers relief from discolored teeth with modern and high-tech teeth whitening technologies. We carefully personalize our whitening treatments to ensure maximum success. We know your time is valuable, so we strive to quickly and effectively resolve your smile concerns.
What Causes Tooth Discoloration?
At Dental Avenu, we treat two types of tooth discoloration.
 Intrinsic
Intrinsic tooth stains stem from trauma or damage inside the tooth. Since they originate inside the tooth, intrinsic stains are often darker in color than other types of discoloration. Multiple factors cause intrinsic stains, including age, side effects from medication, and dental disease.
Extrinsic
Extrinsic dental stains occur on the outside of the tooth, so they are often easier to treat than intrinsic discolorations. Extrinsic tooth stains also stem from various external factors, including food, beverages, and tobacco.
Types of Tooth Whitening 
Patients with discolored teeth have different options for tooth whiteners; however, a professional treatment is the most effective and provides instant results.
Toothpastes
Whitening toothpastes are over-the-counter options that appeal to people with discolored teeth. Although these kinds of toothpaste do have some benefits, they are less powerful and effective than professional treatments.
Bleaching
Bleaching teeth is another over-the-counter whitening option. Tooth bleaching kits come in many styles, and often involve trays or strips and anti-stain chemical formulations, which may irritate those with sensitive teeth. Like toothpaste, over-the-counter bleaching products are not as effective as professional techniques.
Professional Dental Whitening Process
Our professional dental whitening services represent the pinnacle of tooth whitening technologies.
Examination
To start, our dental professionals perform a thorough examination to identify affected teeth and other potential issues.
Application
We use powerful whitening gels to whiten your teeth safely and effectively; these gels typically consist of  hydrogen and carbamide peroxide. Carbamide peroxide can penetrate through tiny spaces in the enamel and dentin, oxidizing stains in the process. Oxidation processes remove dark colors from stains and whiten the treated teeth.
Once we apply the gel to your teeth, we use a special light to activate the whitening ingredient and polish your smile.
Aftercare
Thanks to our comprehensive and state-of-the-art whitening techniques, we can generally whiten teeth by several shades. Some patients experience mild tooth sensitivity following the treatment; however, it usually subsides quickly.
For best results, you need to properly care for your teeth after your professional visits. We can offer you advice and equipment to help you keep your smile pearly white for longer. A teeth whitening treatment does not prevent staining, so it is essential to continue healthy oral hygiene practices.
Whether you suffer from intrinsic or extrinsic tooth discoloration, Dental Avenu can help you achieve the smile of your dreams. Call the Dental Avenu team now at 786-703-4978 for professional and comprehensive teeth whitening services.
Ready to Schedule an Appointment?