Cosmetic Dentistry in Miami Fl: The Benefits of Choosing Dental Avenue
Contact Dental Avenu today to learn more about our dental services.
Book an Appointment
Cosmetic Dentistry in Miami Fl: The Benefits of Choosing Dental Avenu
If you're looking for top-quality cosmetic dentistry in Miami Fl, look no further than Dental Avenue! We offer a comprehensive range of dental services, including General Dentistry, Cosmetic Dentistry, Orthodontics, Endodontics, Oral Surgery, Restorative Dentistry, Sedation Dentistry, Emergency Dentistry, Sleep Apnea Treatment, Botox, and much more.
Our experienced and compassionate team of dental professionals, led by Dr. Sandra Diaz, is committed to providing you with personalized, gentle, and effective care that delivers the beautiful, healthy smile you deserve. Here are just a few of the benefits of choosing Dental Avenue for your cosmetic dentistry needs:
Enhance Your Smile: Our cosmetic dentistry treatments are designed to enhance the appearance of your teeth and improve your overall smile. Whether you're looking for teeth whitening, veneers, or bonding, we use the latest techniques and technologies to give you a brighter, more confident smile.

Improve Your Oral Health: In addition to improving the appearance of your teeth, our cosmetic dentistry services can also improve your oral health. For instance, procedures such as dental implants can replace missing teeth and prevent further oral health problems down the line.

Boost Your Confidence: A beautiful, healthy smile can do wonders for your confidence and self-esteem. With our cosmetic dentistry treatments, you'll feel more comfortable and confident in social and professional situations.

Comprehensive Care: At Dental Avenue, we offer a wide range of cosmetic dentistry services, as well as general dentistry, orthodontics, and more. We can provide all of the care you need under one roof, saving you time and hassle.

Personalized Treatment: We understand that each patient is unique and has different needs and goals. That's why we provide personalized, one-on-one attention throughout your treatment to ensure that you achieve the results you desire.
Don't just take our word for it – check out our glowing patient reviews and testimonials! Contact Dental Avenue today at 7867034978 to schedule your appointment and discover the benefits of cosmetic dentistry in Miami Fl with Dr. Sandra Diaz and her amazing team.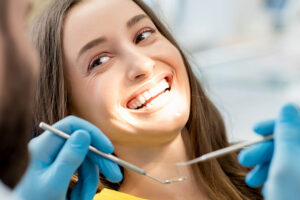 Ready to Schedule an Appointment?