Endodotics in South Miami
Contact Dental Avenu today to learn more about our dental services.
Book an Appointment
Endodontics in South Miami: The Top 5 Benefits of Choosing Dental Avenu
When it comes to a healthy, attractive smile, finding a dentist who can handle all of your dental needs is key. Dental Avenu provides a wide variety of dentistry services, from general dentistry to state-of-the-art cosmetic surgery. Among their range of services, endodontics in South Miami is a standout. Endodontics is a dental specialty that deals with the study, diagnosis, and treatment of the dental pulp. While it may sound daunting, endodontics can be a crucial form of treatment that can salvage a tooth and save it from extraction. Dr. Sandra Diaz is a specialist in this field, and her expertise comes along with all the benefits that make Dental Avenu the best choice for your endodontics in South Miami.
Here are the top 5 benefits of choosing Dental Avenu for your endodontics needs:
Comprehensive care – With a range of dental services available under one roof, Dental Avenu is dedicated to providing comprehensive dental care. In the case of endodontic treatment, this means evaluating your entire dental health and determining if there are any underlying issues that need to be addressed. The experienced team at Dental Avenu is equipped to handle all aspects of your endodontic care.

Advanced treatments and technology – Dental Avenu prides itself on being at the forefront of dental technology, offering the latest in dental equipment and techniques. This means that when it comes to endodontics, Dr. Sandra Diaz is equipped with state-of-the-art tools that can maximize your chances of success.

Pain-free procedures – When it comes to endodontics, the fear of pain is a common concern. However, Dental Avenu's skilled team of professionals are trained in sedation dentistry, which can help make your experience as comfortable as possible.

Personalized service – Each patient at Dental Avenu is treated as an individual, with specific needs and concerns. Dr. Sandra Diaz takes the time to listen to each patient's concerns and create a personalized treatment plan that suits their unique situation.

Positive reviews and satisfied patients – The best way to gauge the quality of a dental service provider is through the experience of their patients. Dental Avenu has received numerous positive reviews of their endodontic treatments, with many satisfied patients recommending the practice to others.
In conclusion, choosing Dental Avenu for your endodontics in South Miami means personalized care, advanced technology, pain-free procedures, and the assurance of satisfied patients. Book your appointment with Dental Avenu today at 7867034978 and experience the best dental care South Miami has to offer.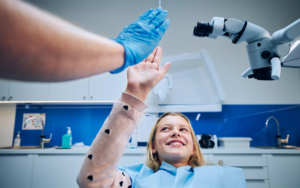 Ready to Schedule an Appointment?